James Wright is our new best friend. He's amazing and just we want to try tasty food with him. Wright's review of Patti Labelle's sweet potato pie has gone viral and for good reason. It's hilarious.
The video has been viewed more than 4 million times on FB and Patti even shared it on her Facebook page.
We're headed to Walmart after work!
A Gallery Of Patti LaBelle GIFs Because They Exist
1. Patti "In Da Club"
Source:
1 of 13
2. Patti Kicks!
Source:
2 of 13
3. Patti Makes Executive Decisions
Source:
3 of 13
4. Patti Touches Herself
Source:
4 of 13
5. No Really. Patti Touches Herself!
Source:
5 of 13
6. Patti Luxuriating Before "Da Club"
Source:
6 of 13
7. Patti Line Dances
Source:
7 of 13
8. Patti Twerks?!
Source:
8 of 13
9. Patti Gets Jiggy With It
Source:
9 of 13
10. Patti References Herself
Source:
10 of 13
12. When Patti Is Snubbed
Source:
12 of 13
13. Patti Gives Props Where Props Are Due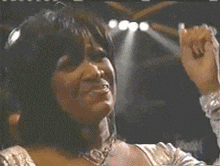 Source:
13 of 13