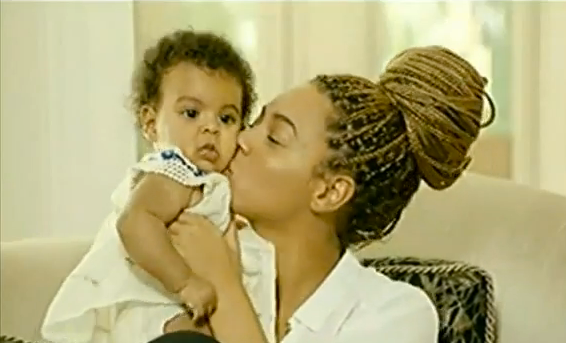 From TheYBF.com:
Beyonce Knowles just exposed her life for the world to see in her HBO documentary "Life Is But A Dream."  It aired tonight, and in case you missed it–and all the first time revelations.
You've seen all the previews.  Now check out the HBO documentary, "Life Is But A Dream" (for now, only a portion is online).   What we get to see for the first time: Beyonce revealing first hand that singing is her first passion, A baby belly, Blue Ivy smiling and chillin' with mommy, Beyonce's love-gushing birthday toast for Jay at his 2006 birthday party, the twosome singing Coldplay's Yellow" to each other, pink rollers she rocked while in labor, and we hear the song she wrote at her saddest point–after her miscarriage.
Here are the highlights from the inspiring and revealing documentary:
On her miscarriage
Two years ago I was pregnant for the first time.  I heard the heartbeat. Something happens when you hear the heartbeat.  You truly know there's life inside you.  I picked out names. I envisioned what my child looked like.  I was feeling very maternal.  My family was so excited.  I flew back out NY to get my checkup.  And no heartbeat.  Literally, the week before, I went to the doctor and everything was fine.  But there was no heartbeat.  I went into the studio and wrote the saddest song I'd ever written in my life and it was the first song I wrote for my album.
On letting her father go as her manager
I'm feeling very empty because of the relationship with my dad.  I'm so fragile at this point.  And I feel like my soul has been tarnished.  I feel like I had to move on and not work with my dad.  And I don't care if I don't sell one record ever again.  It's bigger than the record.  It's bigger than the career.
On the biggest reason she wanted to manage herself
At some point you need your support system.  You need your family.  You're trying to have an everyday convo with your parents, and you have to talk about schedules.  I needed boundaries. And I think my dad needed boundaries.  I needed a break.  I needed my DAD.
RELATED: 7 Things We Learned From The Beyonce's 'Life Is But A Dream'
On if she got her relationship with her dad back
No.  It was hard.  I had to sacrifice my relationship with my dad.  It was a stressful, sad difficult time.  But I had to let go.
On Blue Ivy's name
We passed by a beautiful blue tree [overseas].  I think it's blue ivy.  That would be quite appropriate.
RELATED: Beyonce On Jay-Z: 'I Would Not Be The Woman I Am If I Did Not Go Home To That Man'
On feeling Blue kick for the first time
I felt the baby kick for the first time.  It kicked 5 times!  I've been waiting for that moment.  Hopefully it'll do it again so Jay can feel it.
On bringing Daniel Sr. (Julez's dad) to Paris with them last year
This is the time when your memories really stick with you for the rest of your life.  I wanted to give Julez the memory with his dad.  I know how important that is.
On hiding her pregnancy