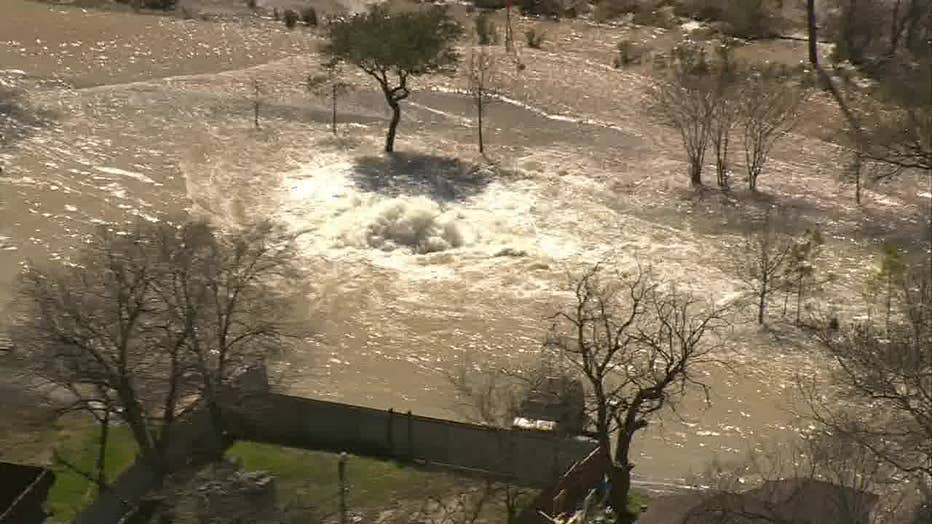 UPDATE #4 (Friday, 2/28): Due to the water main break on Thursday, the following schools, universities, and businesses are closed for Friday:
School districts and campuses:
All Houston ISD campuses will be closed Feb. 28. Classes will resume on March 2. Due to the closure, the make-up day for campuses will be June 1.
Humble ISD: Staff members at these 13 campuses should report. Principals/Supervisors are sending staff members details about Friday.

All Humble ISD Transportation Staff should report to work at regular time.

Students at these 13 campuses should not come to school on Friday, Feb. 28:

Summer Creek High School

Humble Middle School

Woodcreek Middle School

Westlake Middle School

Atascocita Springs Elementary School

Eagle Springs Elementary School

Fall Creek Elementary School

Groves Elementary School

Lakeshore Elementary School

North Belt Elementary School

Park Lakes Elementary School

Ridge Creek Elementary School

Whispering Pines Elementary School

*Classes will be held at all other campuses, where school will continue as usual.

Fort Bend ISD: Out of an abundance of caution for the safety of our students and staff, seven Fort Bend ISD schools will be closed Friday, February 28, 2020 following a water main break in the City of Houston. All other schools and facilities will be open and operating with normal schedules.Closed schools include:

Willowridge High School

McAuliffe Middle School

Briargate Elementary

Blue Ridge Elementary

Ridgegate Elementary

Ridgemont Elementary

Ridgemont Early Literacy Center

Pasadena ISD will be closed Friday, February 28, 2020. School will resume on Monday, March 2, 2020, according to their Facebook page.
Aldine ISD schools and offices are closed Friday, Feb. 28.
Sheldon ISD's campuses, district offices will be closed on Friday.
Resurrection Catholic School will be closed Friday, according to a post from their Facebook page.
Memorial Lutheran School will be closed Friday, according to a post from their Facebook page.
KIPP Texas Houston schools and offices will be closed tomorrow, according to an official email.Universities: 
The University of Houston will remain closed on Friday, according to a tweet by UH President Renu Khator. The UH shuttle service has tweeted that Sugar Land shuttles will operate as usual on Friday. Cougar Line routes will NOT be in service. The Cougar Ride late-night service will operate as usual. Reminder: Relaxed weekend parking in effect through 7 a.m. Monday.
The University of Houston-Downtown will remain closed on Friday.
The University of St. Thomas posted on Twitter that all classes are canceled, check the university's website for more updates.
The following HCC campuses will remain closed on Friday, February 28:

HCC Coleman College, 1900 Pressler St. (77030)

HCC Felix Fraga Academic Campus, 501 N. Drennan (77003)

HCC Central Campus, 1300 Holman Street (77004)

HCC Eastside Campus, 6815 Rustic Street (77087)

HCC Northeast Campus, 555 Community College Drive (77013),

HCC Northline Campus, 8001 Fulton St. (77022)

HCC District Office, 3100 Main St.  and 3200 Main St. (77002).

Texas Southern University will operate on a delayed 10 a.m. start for classes and all offices on Friday, Feb. 28, 2020, as a result of the city's water main break. The University will assess the situation early Friday morning and announce any adjustments, if necessary.Hospitals/Clinics:
Due to the city-wide water supply disruption, MD Anderson has issued the following statement as of 10:49 p.m.:The University of Texas MD Anderson Cancer Center has implemented emergency response measures on its Texas Medical Center, West Houston and Diagnostic Imaging West Houston campuses due to the water supply disruption in Houston.MD Anderson staff are contacting patients whose appointments and procedures may need to be rescheduled at each of the affected locations. If patients have questions about their appointments, they can contact their care provider on Friday, Feb. 28, beginning at 8 a.m. For all other questions, patients can contact the askMDAnderson team at 877-299-6956 from 8 a.m. – 11 p.m. CST.
Memorial Hermann hospitals are currently discouraging visitors to several of their campuses while they assess the current condition, according to a Twitter post.Community Centers:
Wesley Community Center will be closed on Friday, February 28. All programs for the day are cancelled.
Businesses:
The Houston Zoo will remain closed Friday, Feb. 28 and plans to open on schedule at 9 a.m. on Saturday, Feb. 29 pending guidance from public water system officials.Municipal Offices
All Harris County buildings located downtown are closed until further notice.
Harris County Civil, Criminal, Family and Juvenile District Courts' dockets are canceled for Friday. Litigants set for Friday need to contact their individual courts to reschedule, according to a statement. Jury call for Friday is canceled and rescheduling is not necessary, per the news release. Jurors who are currently in trial need to contact their individual court for instructions regarding the resumption of trial.
Tolls are waived until further notice on the Sam Houston Tollway between I-69 North and I-45 South.Polling/Voting Centers:
The following Early Voting locations are closed until further notice:Houston Community College at 6960 Rustic Street

Young Neighborhood Library at 5107 Griggs Road

Texas Southern University, Terry Library at 3100 Celburne Street

Harris County Law Library at 1019 Congress Avenue

Transportation: 

METRO Houston calls for the public to anticipate extended transit times, possible delays, and detours.
Update from Harris County Toll Road Authority, via Twitter: Tolls continue to be waived on the Sam Houston Tollway between I-69 (US-59) North and I-45 South/Gulf Freeway due to the flooding on 610 East Loop. This includes mainlane plazas and entrance/exit ramps. See map for areas where tolls are waived.
Check individual businesses that were closed on Thursday due to low water pressure to see if they will be open on Friday.
UPDATE #3: How did the water main break? A city of Houston contractor was doing exploratory work for a water line project on Thursday. Once soil was moved from the line, the 96-inch water line burst. What people didn't realize is that the water line is responsible for about half of the city's water supply.
A boil water order is currently in effect for 24 hours in the city of Houston except for Kingwood. Residents should expect low water pressure to remain that way for six to eight hours.
UPDATE #2: Here's a list of more school closings and businesses.
Port Houston's Executive Office at the Turning Basin
Sunset Heights Clinic and Monroe Clinic
Ripley House and Fraga after-school programs and classes
Houston Municipal Courts closing at 2 p.m.
University of Houston – Downtown
Casa de Amigos Health Center
Elvin Franklin Jr. Administrative Building
Harris Health Dental Center
Voting centers closed: HCC on Rustic and Young Neighborhood Library on Griggs
Legacy Community Clinics in Fifth Ward and East End
Houston Methodist Hospital: Scurlock and Smith Towers clinics
Several Houston Community Colleges
All Harris County Courts closed on Friday, Feb. 28
HISD statement:
"As a result of the major water main break in East Houston that has impacted multiple areas of the city, after-school activities are cancelled today – Thursday, February 27. However, all playoff games will be held as scheduled. Campus dismissals will be held as normal. If needed, bus drivers will use alternate routes. HISD maintenance staff will also inspect buildings as a precautionary measure to ensure all systems are functioning properly once water is restored."
Houston Public Works statement:
"The City of Houston is responding to a Major Water Main Break in east Houston, near 610 and Clinton Drive. Houston Water is asking drivers to avoid the area. Houston Public Works has received reports of low water pressure across a large portion of the City. Houston Public Works asks the community to conserve water in the area (turn off sprinklers, avoid watering outdoors or washing cars, etc). Valve contractors are in the area to isolate the break and make immediate repairs. Once the valves are closed, pressure should be restored. Houston Public Works will continue to update the community as repairs are made. A City of Houston contractor was onsite doing exploratory work for a City of Houston water line project. When soil was moved from the line, the 96-inch water line burst."
UPDATE #1: Texas Southern University has canceled classes on Thursday in the wake of the water main break.
Texas Southern joins the University of Houston, the University of St. Thomas, the Houston Zoo, Houston Museum of Natural Science and early voting centers at HCC Southeast at the Young Library as venues, schools and businesses closed due to the water main break.
Various individuals from NRG Park to the Texas Medical Center have reported either water pressure has been affected or that low water pressure is on a "building-by-building basis."
The following Harris Health Systems are closed:
Martin Luther King Jr. Health Center
Gulfgate Health Center
Casa de Amigos Health Center
Dental Center
Sunset Heights Clinic
Monroe Clinic
Here's the severity of the water leak:
ORIGINAL STORY:
This is crazy!
It's sunny outside, not a raindrop in sight and yet, there's a massive flooding event in Houston, particularly near the Houston Ship Channel.
A water main break near 610 East Loop and Clinton has led to massive flooding, creating a standstill on roads and more. A few cars were stranded in the water and currently, there's massive backup along the north loop and drivers can't get off the road. Rescue boats are pulling some commuters to safety.
All of the main lanes of 610 East Loop, southbound and northbound, are closed due to the high water. Businesses nearby have closed and according to the University of Houston, there is no water currently on campus due to the break in the pipeline.
This is a developing story. More updates will be provided. 
IMAGE CREDIT: Fox 26
Also On 97.9 The Box: