When it comes to reality TV, most people either love or hate it. Whether you're a fan of franchises like Love & Hip Hop, Real Housewives of Atlanta or not, there was no escaping the virality of some moments that will go down in boob tube history.
Scroll through our list of the top reality TV moments of 2015.
Nikki Mudarris & Lil Fizz Breakup With Kamiah
Fizz proved himself to be a great father on Love & Hip Hop Hollywood, but the former B2K member isn't so smooth when it comes to his dating life. If he isn't having drama with his baby's mother Moniece, he's calling women 'appetizers.' Fizz was dating Kamiah, when things got to serious for him and he decided to pull back. Fair. He just didn't do it the right way. Fizz invited Nikki over, who dressed sparingly for the occasion, to help kick Kamiah to the curb. Of course it didn't end well. Fizz wound getting hit with a two-piece and Nikki got hit with a package of water bottles.
The Slap Heard Nowhere
It's 2015 and we're still talking about Tara Wallace, Amina Buddafly and Peter Gunz's awkward love triangle. This season of Love & Hip Hop NY picked up where we last left off with the couple, only this time around, Tara moved into Peter and Amina's apartment building so he could be closer to their children. If you feel your blood rising at the thought of your husband's baby's mother, you are apart of the 99.9 percent of women shaking their heads saying, "Oh hell no." But hey, this is reality TV. Amina thought moving Tara closer would bring Peter home, but it turned out to be the complete opposite. In this scene, Tara and Amina confront Peter, who owns up to being the dog he is. Amina let Peter have it with a slap across his face.
Before you go felling all liberated for Amina, it turns out, after slowing down the video, Amina actually missed Peter by a hair and further proved reality TV is as real as wrestling.
Cardi B Becomes The Patron Saint Of Thotland
With over one million followers on Instagram, Cardi B was well known before her Love & Hip Hop debut. But her appearance on this season really took her Instafame up a couple thousand notches. The 'regular, degular, smheglar chick from the Bronx' earned her reality TV stripes when she approached her side boo DJ Self's main chick with the classic line, 'What's poppin?' She's totally the new Joseline Hernandez.
Ceasar Attacks Puma
If you're a fan of Black Ink Crew, you were glue to the screen when Ceasar confronted Puma after a long, drawn out beef. Ceasar approached Puma and gave him the opportunity to fight him one-on-one. While Puma didn't seem like he wanted to fight, there's was no stopping Ceasar, who began punching his former friend. Security broke it up before things got too out of hand, but poor Puma. He's always getting thrown around.
Joseline Throws Karlie Redd Out Her Dressing Room
Karlie Redd was probably Joseline Hernandez's only friends left on Love & Hip Hop Atlanta, but that came to a quick end when Joseline got tired of her reporting between groups and threw her out of her dressing room. Joseline was clearly in a mood after breaking up with Stevie. Karlie showed up in the wrong place at the wrong time.
Claudia Jordan Fires Off On NeNe
San Juan will never be the same. The peaches of Real Housewives Of Atlanta headed down to Puerto Rico for a girls getaway that turned sour after NeNe and Claudia Jordan faced off in a shade battle of epic proportions. Disses were hurled, hairlines were dissed and NeNe stooped to low levels to hold onto her shade crown.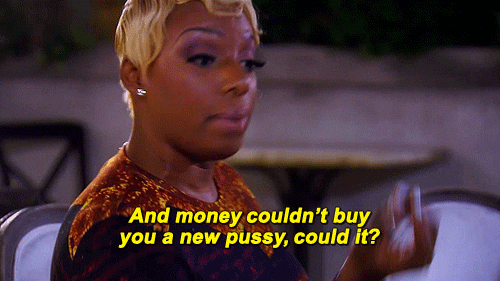 Shaunie O' Neal Gives Brandi The Boot
Shaunie O' Neal wins 2015 for the best moment in reality TV this year. Basketball Wives LA made a comeback, bringing with it, Shaunie and the great shade slinger of the west, Tami Roman. The reality TV veterans instantly clashed with the cast, resulting in Shaunie O' Neal having to flex her bawse status.
During their final dinner as a group, Brandi Maxielle pressed Shaunie about treating the rest of the girls like they were beneath the original BBall Wives cast (you know, the Evelyn's of the world). While Shaunie tried to reassure Brandi it was all in her petty head, Brandi had enough and called Shaunie a 'b*tch.'
Chile, what happened next was reality TV gold. Shaunie kindly reminded Brandi, she is the executive producer of BBall Wives and ended Brandi's career with 'your services are no longer needed.'
RELATED STORIES:
Amina Buddafly: Reality TV Does Not Define Me
When Reality TV Gets Too Real: The Violence On RHOA Has Gone Too Far
Shaunie O'Neal Fires Brandi, Wins Reality TV
'Thank You For Your Services': The Top Reality TV Moments Of 2015  was originally published on hellobeautiful.com