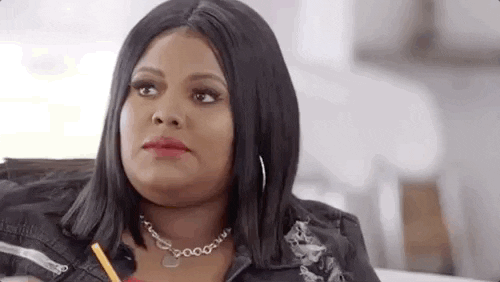 Love & Hip Hop: Hollywood did not disappoint this week, as fans of the messy reality show tuned in to the season finale on Monday, November 5. If you watch on the regular, you know there's been a lot to digest throughout this fifth season—and thankfully, last night we got some of the closure we needed.
One of the biggest story lines was A1 and Lyrica Anderson's failing marriage. Viewers were trying to figure out if Safaree smashed Lyrica with his massive man meat after alluding to it during a conversation with Ray J.
With rumors flying that A1 wasn't hitting right, if at all, and photos of Safaree's big d*ck energy going viral, we can't say we'd be surprised if Lyrica stepped out on her hubby. But sh*t got hectic when a new face on the show claimed he was digging Lyrica out too. Roccstar—A1's super producer arch nemesis—says he hit that, but due to his issues with A1 we don't know if we'd be as quick to believe that one. To top it all off, Lyrica found out she's pregnant—supposedly five months after A1 caught her doing dirt with another flame. Keeping up?
Elsewhere throughout this season: Teairra Mari couldn't stop smashing her suspect polygamist boo Akbar, Moniece and AD broke up, Princess wants all the smoke with Moniece, after spilling all her friends' business Brooke Valentine stirred up lots of trouble with her own fiancé Marcus Black, Boobie Gibson's fine ass returned to defend Brooke's honor, and newcomer Detroit singer La'Britney made a splash with her cute self.
Hit the flip for top 4 craziest moments from last night's finale—it was a lot.
The Messiest Moments From Love & Hip Hop Hollywood's Season 5 Finale  was originally published on globalgrind.com
1 2 3 4 5Next page »