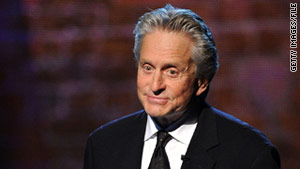 (CNN) — Actor Michael Douglas says he has beaten throat cancer.
"I think the odds are with the tumor gone and what I know about this particular type of cancer that I've got it beat," he told host Matt Lauer of "Today" in an interview to air on NBC Tuesday.
"I have to check out on a monthly basis now to maintain. I guess there's not a total euphoria. I'll probably take a couple of months of getting checked out. But it's been a wild six-month ride," Douglas said in his first television interview since undergoing cancer treatment.
The experience left him with an appreciation of finite time, he said.
"It's put a timeline on my life," he said. "I'm 66 now. You know, I'm fortunate I've got a mother who's 88 — she'll kill me — she may be 87. My father's 94. So, you know, I feel good about those genes. But it's definitely a third act. And so you're a little more conscious of your time in how you choose to spend it."
The radiation treatment has shut down his salivary ducts for at least a year or two, and a dry mouth affects his sleep, he said. He lost 32 pounds during the ordeal, but he has regained 12 by "eating like a pig," he said with a laugh.
"I got another 20, 25 to go," he said about returning to his normal weight. He exercises at a gym, but he avoids cardio workouts because he wants to put on muscle mass, he said.
Also On 97.9 The Box: