During press rounds for her new OWN show 'Love Is,' creator and executive producer Mara Brock Akil revealed she already has a 'Girlfriends' movie locked and loaded–all she needs is funding.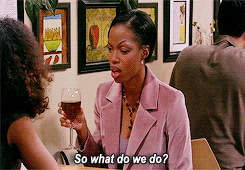 As she sat down with Vulture, Akil described she needs a studio to hand over about $50-$60 million to get the job done.
"Yeah, you can tell any studio in town: If they got 50 to 60 million, I already have the script. We can make an epic story and we can make a lot of money, but me hustling and knocking on doors begging to do this story is not where it is anymore. It deserves somebody to see the value in it and write that check. That's what it's about," Akil described, explaining the struggled Black creators have when it comes to producing in-demand content.
"People often think I have the power. Well, I have a lot of creative input, I know the vision of it, but I need the money. That's what this industry is all about — supporting artists and supporting storytellers and hearing the audience for what they want and need. There still is a lack of value for what black women want, yet we have proven to be one of the strongest consumers in the marketplace. Yet we still are undervalued about what we want and need So, yeah, I have a script. It'll be great. But I can't keep worrying about that and hustling that because I wouldn't have come up with Nuri and Yasir. I wouldn't have helped launch Black Lightning. I have a lot more stories in me. Begging someone to see the value of Girlfriends, I can't do it anymore."
SOURCE: VULTURE
RELATED LINKS
'Love Is' Recap: Yasir And Nuri's Situation Feels Like A 90s R&B Song
WATCH: Oprah Winfrey Reveals Some Of Her Favorite 90's Slow Jams
Afternoon Minute: Salim And Mara Brock Akil Developing 'Black Lightning' DC Superhero Series
Mara Brock Akil On A Potential 'Girlfriends' Movie: "I Already Have The Script"  was originally published on hellobeautiful.com