Bet ya grandma can't move like Aunt Patti!
Patti LaBelle hit the stage last night on "Dancing with The Stars" and proved that it's never too late to shake a tail feather. The living legend, who scored a 28 last night on her routine with partner Artem Chigvintsev, chose to dance to 50 Cent's party anthem "In Da Club" largely due to an experience she had at her 70th birthday party.
"My friend's figured they would play some quiet decent 70 year young music and after three songs, I can said cut it: put on 'In da club!'" she revealed.
We know that's right Patti! Although it's only week 2 of the fan favorite series, Patti LaBelle has already injured a knee. We hope she's able to survive the series without being side-lined with an injury.
With moves like that, Patti LaBelle has to win the coveted mirror ball!
RELATED STORIES:
Patti Labelle, Janelle Monae & Ariana Grande Cover 'Proud Mary' & We're Like Yasss!
Pay Homage! Patti LaBelle & Gladys Knight Shutdown Walmart's NAACP Awards Viewing Party
A Gallery Of Patti LaBelle GIFs Because They Exist
1. Patti "In Da Club"
Source:
1 of 13
2. Patti Kicks!
Source:
2 of 13
3. Patti Makes Executive Decisions
Source:
3 of 13
4. Patti Touches Herself
Source:
4 of 13
5. No Really. Patti Touches Herself!
Source:
5 of 13
6. Patti Luxuriating Before "Da Club"
Source:
6 of 13
7. Patti Line Dances
Source:
7 of 13
8. Patti Twerks?!
Source:
8 of 13
9. Patti Gets Jiggy With It
Source:
9 of 13
10. Patti References Herself
Source:
10 of 13
11. Patti Checks Up On You
Source:
11 of 13
12. When Patti Is Snubbed
Source:
12 of 13
13. Patti Gives Props Where Props Are Due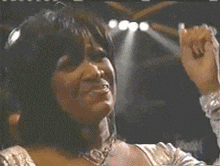 Source:
13 of 13
This Video Of Patti Labelle Dancing To 50 Cent's 'In Da Club' Is The Best Thing You'll See All Day was originally published on hellobeautiful.com